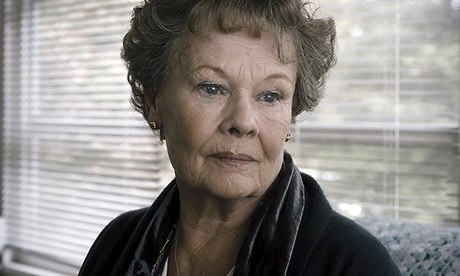 Judi Dench received her 7th Oscar nomination for playing Philomena Lee, an elderly woman who was made to give up her son by the nuns she was made to live with after she got pregnant. 50 years later, she enlists the help of a reporter to go and find him.
During the pre-Oscar nominations season, some felt that Dench would be snubbed in favor of Adams or Streep. But with Phillmena being a strong favorite to get nominated in Best Picture and Dench hot nominated at the B.C.C.A, G.G, SAG, and BAFTA, Dench was obviously a solid nominee this year. Her chances of winning are very slim though. She hasn"t won anything thing major for this performance and even if she wins the BAFTA, that won"t mean much (she"s won there many times and the BAFTA sometimes endorses the more European choice). So, unless voters want to give Philomena something or they want to give Judi a Best Actress Oscar (she won in supporting 15 years ago), expect her to lose for a 6th time.
Philomena is a good, but flawed film. It tells s very moving, dratix story that. succeeded when it was just that: a drama. The movie unfortunately tries to add to much comic relief in the relationship between Philomena and the reporter (Steve Coogan), which detract from the tone of the film. The scenes are simply not very funny and don't work. However, the movie still is entertaining and well made, as well as hitting it's emotional mark in the right place.
Judi Dench is an actress who I like very much. She has the same quality or center in many of her performances, but she always does something interesting with it or she stretches herself to create something completely different. It's refreshing here to see her play a character of lesser status. Philomena isn't a weak woman, but her values and eccentricities make her a less powerful person then M or Barbara Covett for example. Her irish accent is wonderful and it fits the character perfectly. You can tell that Dench understands who Philomena is very well. Unfortunately, the comic scenes in the beginning ruin a lot of the potential to male this a great performance. Dench's eccentric and comic scenes with Coogan are somewhat funny and not badly played, but they are just rather slight and unimpressive. I found a hard time liking these scenes, because although Dench plays them well, I much preferred her more dramatic, subtle material. We also don't see enough of the reason of why Dench is so forgiving of the nuns who made her give up her child, instead Philomena simply says "I don't want to blame the church" which is understandable given her religious values, but when the film is trying to give us an explanation, it unfortunately fails because of Coogan's bland performance and the slightness of the scenes between them.
However, the performance is an excellent, even outstanding one. When the movie is working with her, when it's the dramatic moving story it should be, Judi Dench is wonderful. We can see the pain that she's carried around with her whole life and Dench beautifully shows the arc of the character, her journey to finding what happened to her son, brilliantly without taking a misstep. We can see all the aspects of the character, her religion, her guilt and shame for her pregnancy, her longing to find her son, her determination through Dench's face and the brilliant subtle quality of it. It's too bad the script doesn't balance the strength of Philomena with the comic moments or this could have been a fantastic performance.
But Judi Dench still gives an excellent performance that carries her film very well and it's so good to see her back at the Oscars after her 7 years! She gets