So, to shake things up a little bit from the constant awards tracking, I've decided to look back at one of the most controversial Oscars in history. I love doing these and expect more in the future.
Best Picture: Before the Oscars, Brokeback Mountain won everything: The Golden Globe, The Critics Choice Award, DGA, PGA, BAFTA, and countless other critics awards. But a film called Crash, which came out in May but still had solid support from audiences and key critics (Ebert And Roeper, among others) was able to get 6 Oscar nominations and bested Brokeback at the SAG's for Best Ensemble Cast, making many believe it to be the only film that could beat it on Oscar night. But given the film's brilliant ensemble cast and also that this was a hugely actor based film, pundits didn't think much of it. But when Jack Nicholson opened the envelope, it wasn't Brokeback that was in it. It was Crash. I was shocked as everybody else in the world was that it wasn't Brokeback. as mentioned above, it won everything. How could it lose? Firstly, I think people didn't notice that there was not a lot of passion amongst people in regards to Brokeback Mountain. Despite all of it's wins, I doubt that people were so moved and shaken by the film given it's slowness and overall somber tone. It's certainly heartbreaking, but it isn't moving or gut-wrenching like Crash is. That's the other reason: Crash riveted people and that's the reason it won. It reaches inside us and moves us by the end. I personally love the film, although I admit it's coincidences are a bit unbelievable towards the third act of the film, but that's a minor complaint. As for the homophobia angle, I can't lie and say that I think homophobia wasn't a reason in SOME voters minds. The Academy is largely older and comprised of males, so it could have played a part in the reasons why it won, but they could have voted for G.A.G.L or Munich or even Capote (Although that has homosexuality in it too). But as I've said, it was the lack of passion for Brokeback as well as the support for and the quality of Crash that put it over the top. One of the most deserving Best Picture wins.
Best Director: Unlike Best Picture, this was always a slam dunk for Ang Lee. Brokeback was considered to be a great achievement and Ang Lee had made such great films in the last 10 years that people thought that it was time to honor him. I'm guessing Haggis was the runner up given the fact Crash won Best Picture, but maybe George Clooney picked up a few votes?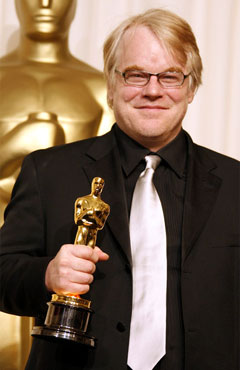 Best Actor: Phillip Seymour Hoffman was a big lock here and he deserved it. At the time, people thought Heath Ledger could take it, but his work was too subtle to triumph over Hoffman. Joquain Phoenix was most likely third but I think voters felt a win for Witherspoon would be enough to honor them both. However, I think Hoffman won by a landslide given the quality of his work and the fact that they wanted to spread the wealth and honor Capote somewhere. Straitharin and Howard were not contenders.
Best Actress: Reese Witherspoon won the majority of the critics prizes and the Musical/Comedy Globe, but when Huffman won at the Globes as well, I'm sure people thought that it would be a two horse race between them. Although I agree that Huffman was second, I think, like Hoffman, Witherspoon won by a landslide given her wins at SAG and BAFTA, as well as Walk The LIne's immense popularity. It was the most sucessful and widely seen film by far of the five nominees. Felicity Huffman gave a great performance, one that should have won, but Transamerica was widely under the radar at the Oscars. And Witherspoon was showing unexpected range and depth as well as doing her own singing, although I honestly find neither to be overly impressive. I'm guessing Dench was third, given their love of her, and Theron and Keira were last.
Best Supporting Actor: This was one of the only times in the mid to late 2000's that Best Supporting Actor was actually a somewhat open race. Alan Arkin's win aside, the winners in that period were all sure things. Excluding Waltz, the rest of the winners in the 2010's were all locks too. This year though was a race between SAG winner Paul Giamatti and Golden Globe and eventual Oscar winner George Clooney. I think voters wanted to honor Clooney somewhere. His work on Good Night And Good Luck must have impressed them a lot and he'd been loved in Hollywood for so long that the Academy wanted to finally give him an Oscar. As for Giamatti, I think Cinderella Man was an absolute flop and there wasn't much going for him besides his SAG win. I think the Actor's branch may have liked him, but the rest of the branches gave Clooney overwhelming support. I think Gyllenhaal and Dillon had equal chances at winning, although I'd say that Gyllenhaal might have had a little more going for him, given his BAFTA win, but it just wasn't likely for either of them. William Hurt winning was highly unlikely.
Best Supporting Actress: An interesting race this year for sure. I think Rachel Weisz won because of her wins at G.G and the SAG. Probably the thing that made voters rally around her performance is that that her role is the largest out of all them. I don't know if she has the most screen-time (if anybody does, tell me!), but her character has the largest impact on her film film by far out of any of these nominees, so much that one could consider her a lead (i do not not, but I get the legitimacy of the argument, although I personally would say she's supporting). I'd say the runner up was Amy Adams who was a fresh breakout star who could have been the surprise winner this year, but I think not enough voters saw Junebug to put her over the top. Michelle Williams was most likely third and she could have been Brokeback's best shot at an acting win, but her role is too subtle and also too unimportant to win the award. Keener and especially McDormand had no chance.
Best Orignal Screenplay: Crash won here, and it was an obvious win given it's precursor awards and that pundits thought that it was here where the Academy would honor it. I'd say Goodnight And Good Luck was the runner up, although I guess Squid And The Whale could have gotten some votes too.
Best Adapted Screenplay: Brokeback Mountain was a sure thing here as well, although if there was an upset, I would say Capote would have won. It's a great adaptation and a win would have been very deserving.
P.S: I usually post my picks for these as well, but I need to see some of the other nominees and rewatch a lot from this year so I decided to not post them quite yet. Tell me yours below though! What are your thoughts? Picks and preferences? Do you hate Crash just as much as everybody else does? Or is it Witherspoon's win that grates on you the most? Do you like Brokeback and Crash, but prefer one of the other nominees? What did you think, LOL, of It's Hard Out here For A Pimp winning Best Original Song?